We went to Sea World today - wow was it crowded!!!

Anyway...when we were leaving the parking lot we saw pretty flowers and I got out my camera. I remembered something I read on a blog - when you are shooting outdoors you want the sun (ideally) to hit at a 45 degree angle on the face. If there is nothing tall to force the light to come in from the side or the front- then put the child's back to the sun and have them look up - Steph wasn't cooperating so I pulled in the big girls - well they are not looking up enough to get all the sun we wanted but it's a cute picture!!! Nicole Van explains it really well with a good picture and it's something I wanted to remember - here's her link:.......(http://nicholevan.typepad.com/)

I remember learning that a person should be facing the sun and yet that is really not true...The pictures look so much better without people squinting!!!!

Anyway - this is straight out of the camera (no touching up) with my cheap lens that came with my original Canon. We went in a photo store today - I am saving my money for a Canon L series 24 - 105...it was soooo nice and sharp and a great walk around lens....

Here's another one of Jessy - the sun is better on her face than the one of both girls above....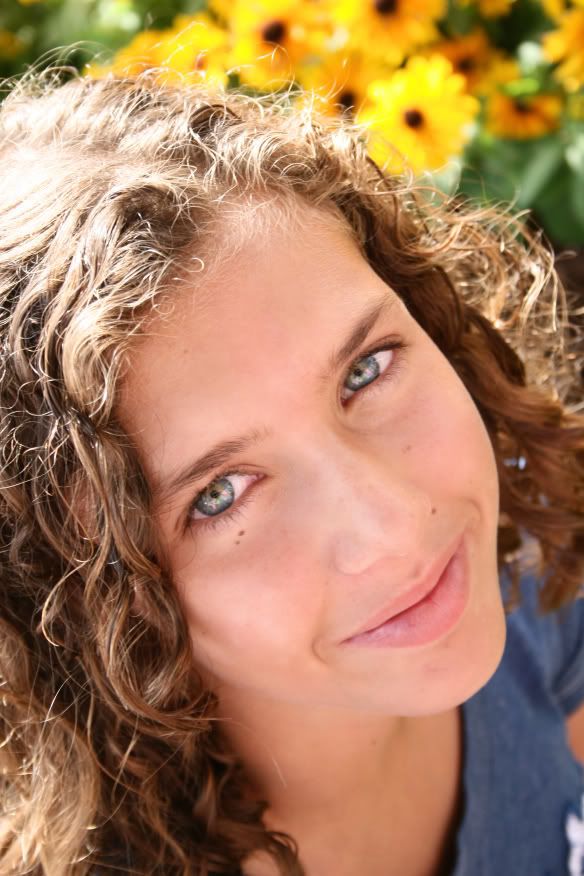 here was steph's try....
I guess I should have a ladder and she should be sitting on a cool chair and actually be smiling cute?????